During the last three weeks, vegetable oil prices have continued to rise, although at a much slower pace than in January. Of note is the rise in soybean oil prices, related to the updated downward crop forecasts in Brazil and Argentina. Energy commodities have also recorded very significant rises, in addition to those already seen in the last few months.

In the case of palm oil, uncertainties mean that prices continue to break historical records. Many exporters in Indonesia, the world's leading producer (over 50 million tonnes in 2021) and exporter, are struggling to comply with the Domestic Market Obligation, imposed by the government, which requires 20% of the expected export volume to be sold on the local market at a fixed price. This limits export volumes.
On the other hand, Malaysia is expected to see a recovery in production in 2022 to 19.2 Mts (+1.1 Mts compared to 2021). Although this is conditional on favourable weather and greater availability of foreign labour for harvesting.
Sunflower oil, with good availability until the new season, is currently the most competitive oil (sunflower oil FOB Black Sea is trading around 100 USD/tonne below soybean FOB Argentina and between 80-90 USD/tonne below RBD palm olein in Malaysia). This is an unprecedented situation. However, the situation between Russia and Ukraine poses a risk that is difficult to predict in the short/medium term.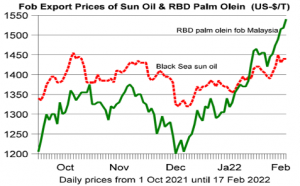 As a result, India, the world's largest importer of vegetable oils, has significantly reduced palm imports in recent weeks in favour of soybean and sunflower.
In this changing scenario, we invite you to download and continue reading LIPSA's market report below, where you will be able to get first-hand information on:
1. Evolution of reference markets
2. External
3. Palm Oil
4. Soybean Oil
5. Sunflower Oil
6. Rapeseed Oil