The disruption of sunflower oil exports from the Black Sea due to the war in Ukraine has aggravated the global shortage and pushed up the prices of all vegetable oils from already very high levels.
Demand and price pressure has been largely geared to solving this crisis in recent weeks, with many applications looking for alternatives to sunflower oil, switching from sunflower to rapeseed, soybean and palm oil mainly, but also creating availability tensions in some of them in the short-medium term.
Planting and growing conditions for oilseeds in the United States and Canada will be closely watched. On the other hand, the seasonal increase in Malaysian palm oil production has started in March and will accelerate in the coming months. In parallel, vegetable oil imports from India and China may decline due to high prices. Massive volatility in palm oil markets due to the announcement of Indonesia's export ban.
The attached graph shows the price evolution of the 4 main oils: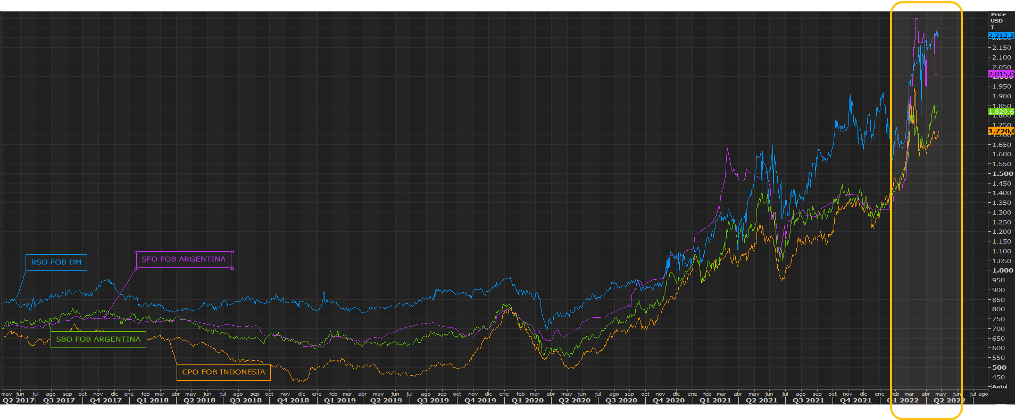 In the case of palm oil, there is high volatility in the markets due to the announcement of Indonesia's export ban. Throughout Monday's session, the government clarified the export ban announced on Friday, saying it would cover only RBD palm olein which accounts for about 40% of exports, leaving out other palm products.
However, today the Indonesian finance minister said that the export ban will cover all palm products, including crude palm oil and refined palm, in addition to the already announced RBD palm olein, which has again caused great concern in the markets.
Most analysts believe the ban will be temporary. According to Reuters, the ban is unlikely to last more than a month, as Jakarta has limited infrastructure to store surplus oil and the country is facing increasing pressure from buyers to resume shipments.
In this changing and uncertain scenario, we invite you to download and continue reading LIPSA's market report below, where you will be able to get first-hand information on:
1. Evolution of reference markets
2. External
3. Palm Oil
4. Soybean Oil
5. Sunflower Oil
6. Rapeseed Oil