Vegetable oil prices have been under pressure over the last month with significant falls in most of them. Sunflower oil has led these falls, despite a recovery over the last week: it has traded considerably below CPO on the Rotterdam market. There are significant stocks in several countries and better than expected prospects for Russia and Ukraine. On the other hand, despite the appreciation of energy prices, palm oil prices have been under pressure due to the seasonal increase in production. The soybean harvest in the United States and rapeseed in Canada have added pressure.

The weather situation and crop forecasts are critical factors during the last weeks and in the near future. The most relevant information in the main producing countries is as follows: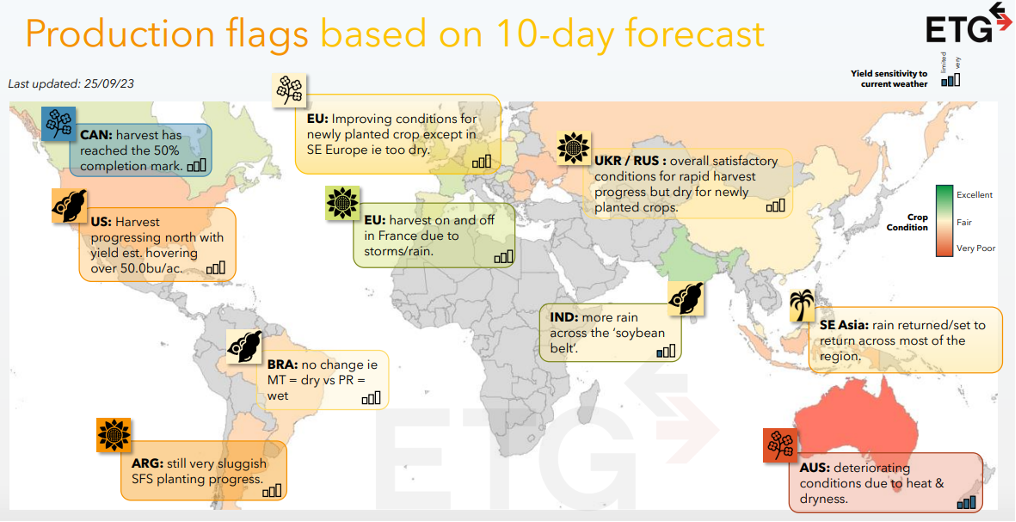 Regarding high oleic sunflower, a few countries concentrate most of the oleic sunflower production, which is less than 10% of the total area of total sunflower. Apparently, low premiums in the market during the 2022/23 season have reduced the area and supply for 2023/24. Palm oil has not been able to escape the downward trend in the vegetable oil market in recent months. The current competitiveness of vegetable oils vs. fossil fuels encourages the consumption of vegetable oils as an energy source.
We believe that pressure on vegetable oil prices may persist for some time due to the expected peak in palm oil production in Asia and the arrival of sunflower and rapeseed crops, in addition to recent disappointing global economic news. As discussed in recent reports, El Niño is a significant risk factor for palm production. If negative production effects materialise, given the current low stocks in Indonesia, prices could rise. There are concerns about the current conditions in Indonesia and their potential impact on palm oil production 6-8 months ahead.
To learn more about the market situation, we invite you to download and read the LIPSA Market Report, where we discuss the following points:
1. Vegetable oil prices
2. Oilseeds and vegetable oils: production
3. Sunflower oil (SFO)
4. Palm oil (CPO)
5. Lauric oil (coconut and palm kernel)
6. Soybean oil (SBO) 
7. Rapeseed oil (RSO)