The market of organic products is experiencing a remarkable growth in recent years and every day more companies are launching organic products to the market. Within our philosophy of innovation and adaptation to new market trends, LIPSA has been certified since mid-2018 to refine and commercialize organic oils in our refinery in Santa Perpetua. In line with this strategy, LIPSA has recently started to fractionate organic palm, becoming a pioneer in the sector as the first European company to fractionate organic fats.
Discover our BIOLIP range
At LIPSA we market all our organic oils under our Biolip brand and since recently also organic palm fractions: stearin and olein. Thus offering the most complete range of organic oils and fats on the market.
ORGANIC Refined Sunflower ·

BIOLIP SUN

ORGANIC Refined Midoleic Sunflower ·

BIOLIP MIDSUN

ORGANIC Refined High Oleic Sunflower ·

BIOLIP HOSUN

ORGANIC Refined Soybean ·

BIOLIP IP SOY

ORGANIC Refined Rapeseed·

BIOLIP RAPESEED

ORGANIC Refined Palm·

BIOLIP PALM

ORGANIC Refined Coconut ·

BIOLIP COCONUT

**NEW** Refined Palm Fractions ·

BIOLIP PALM OLEIN / STEARIN

Tailor-made ORGANIC oil and fat blends ·

BIOLIP MIX
Ask our sales team for more details and delivery options: here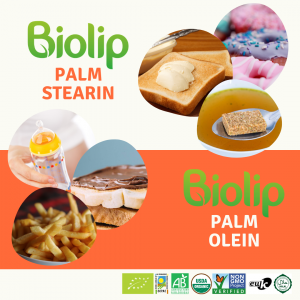 What is organic?
Organic/ecological vegetable products are products cultivated without fertilizers or chemical synthesis pesticides (fungicides, insecticides or herbicides). Therefore, without residues of these substances. Only organic fertilizers and natural minerals are used and nitrogen fertilization is limited to 170 kg/ha and year. Additionally, transgenic crops are not authorized.
Products with organic certification cannot be mixed with their non-organic counterparts and their integrity must be ensured throughout the entire supply chain. To be able to identify if we are buying an organic product, simply look for the following logos: CCPAE for products manufactured in Catalonia or the Euroleaf, a distinctive mark of the European Union.