In recent weeks, price increases have continued for practically all vegetable oils, except rapeseed. Of particular note are the price rises in lauric, coconut and palm kernel oils. Energy commodities have also risen. Oilseed production is in the spotlight and the news is followed with special attention. Some news of interest in recent days are:
• A larger than expected drop in the US soybean crop is anticipated.
• Rapeseed production in Canada will fall from initial forecasts due to high temperatures.
• Weather is favourable in Ukraine and Russia for sunflower.
• Uncertainty about the escalation of the war in Ukraine has increased and attacks on port infrastructure are a concern.
At a global level, this is the current situation regarding the prospects for the production of the main oils and fats: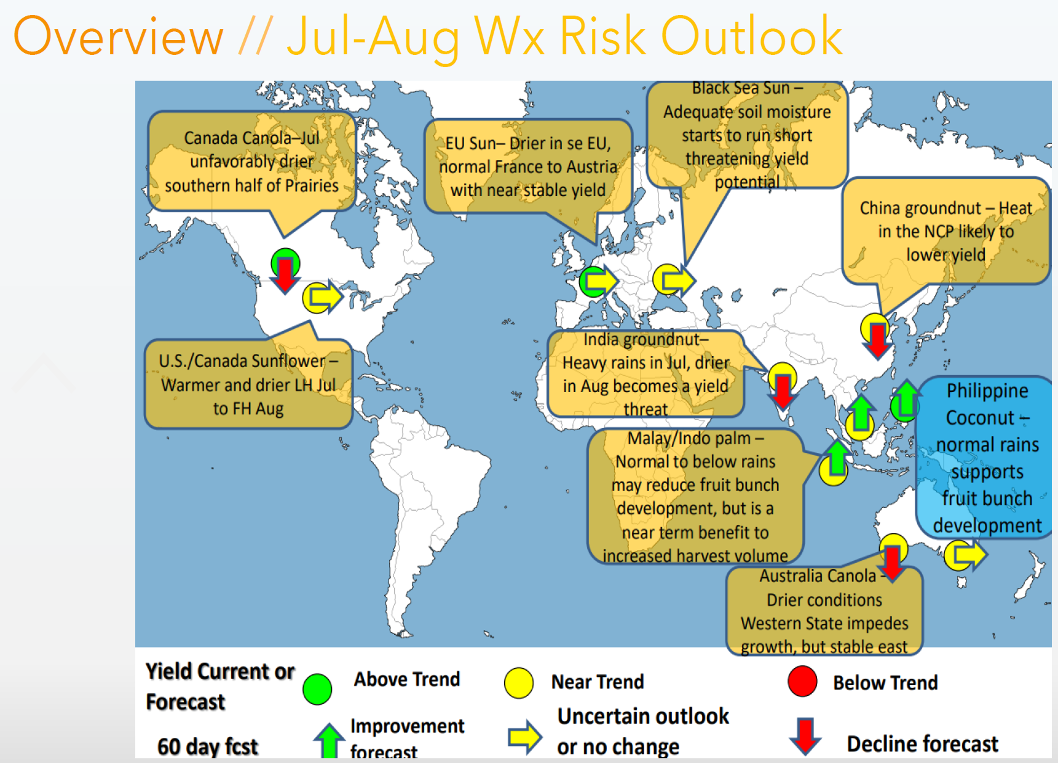 Palm oil is currently offered at a significant discount to soft oils. CPO (Crude Palm Oil) prices fell after losing market share to soybean and sunflower oils, widening the discount and thus increasing buyer interest.
India, the world's largest importer of oils, has significantly increased its imports in June, replenishing stocks in view of uncertainties in the Black Sea region. For July, Reuters anticipates CPO oil imports of 1.1 MnT.
The good availability of lauric oils has contrasted until June with rather subdued global demand from the oleochemical and food sectors. However, prices for these fats have recently developed some price strength. In Rotterdam, CPKO (Crude Palm Kennel Oil) prices have risen for the fifth consecutive week. Demand for CPKO is slowly recovering after 6 months. CPKO is offered at a premium of around 20/40 USD over CPO. Meanwhile, CCNO (Crude Coconut Oil) prices show high volatility due to very low liquidity in the Rotterdam market. CCNO exports from January to July from the Philippines are 32% lower compared to the same period last year.
In sunflower, Strategie Grains reduced its outlook for the European crop for the new season to 10.5 MnT from 10.9 MnT, still 13% above last season, due to drier than usual conditions in much of Europe, as well as in eastern Romania. There is a risk of further downward revisions. In Ukraine, the outlook for cereal and oilseed production has improved thanks to favourable weather conditions. Sunflower oil prices remain highly competitive, especially compared to soybean oil. In addition, the deteriorating outlook for world rapeseed, US soybean production and the recent attacks on Ukraine are the main factors supporting prices. August is the critical month for world production.
To learn more about the market situation, we invite you to download and read the LIPSA market report by clicking on the button above, where we discuss the following points:
1. Vegetable oil prices
2. Vegetable seeds and oils
3. Rapeseed oil
4. Sunflower oil
5. Soybean oil
6. Palm oil
7. Lauric oils (coconut and palm kernel)