The prices of the main vegetable oils have continued to fall in recent weeks, most notably in the case of tropical oils and rapeseed. Oil and gas prices have risen in the last month, after significant falls in previous weeks.
The table below shows the evolution of some oils and other relevant factors in the last month:

At the same time, the euro continues to appreciate against the dollar, steadily since the lows of October/November last year. This favours purchases in dollars but, on the other hand, penalises exports from Europe: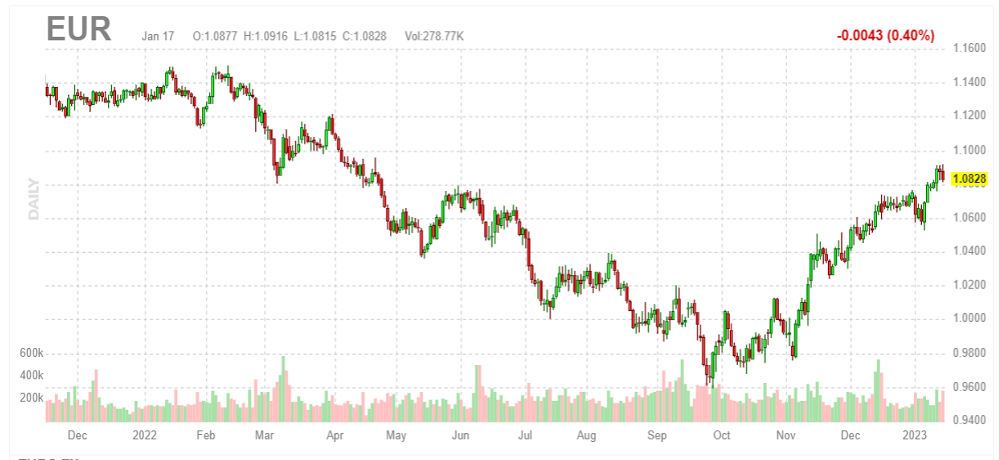 Globally, China's oil imports have grown strongly for the third consecutive month after a year 2022 in which the total oil import volume has ended well below previous years, due to sustained high prices.
Indonesia's palm oil stocks declined by 3.5 MnT from July to November and are now equivalent to 5-6 normal weeks of consumption. Deep discounts and record exports imply that stocks are building up in India and other importing countries. Demand for palm oil is likely to fall somewhat in the coming months. However, global demand in 2023 is expected to increase, among other reasons due to the implementation of B35 (35% palm oil requirement in biodiesel) in Indonesia.
As a result, we expect palm oil prices to stabilise and the discount to other oils to narrow.
As far as sunflower is concerned, exports in recent months remain very high. In the sunflower oil market (classic and high oleic), prices have continued to fall due to the lower activity of buyers, especially from Europe, because of the saturation of the market both with sunflower oil and with sunflower seeds. With this situation of ample availability of both seeds and oil in Europe, coupled with a bumper Russian crop, prices could remain under pressure in the short term and at a discount to soybean oil.
In soybean oil, the harvest in Argentina is being closely followed, which due to a severe drought, is expected to be much lower than in previous years, and worse than the forecasts of a few weeks ago. Current figures point to a harvest of 34 million tonnes, compared to 42.5 million tonnes last season.
To learn more about the market situation, we invite you to read the LIPSA market report (the download button above), where you will find:
1. Vegetable oil prices
2. Macroeconomics
3. Demand: China and India
4. Palm oil
5. Soybean oil
6. Sunflower oil
7. Rapeseed oil