Prices of the main vegetable oils recovered considerably in early October, after falling in September to their lowest levels in more than a year. The only exceptions are laurics, coconut and palm kernel, which have continued to fall sharply in recent weeks.
The main factors that have helped prices to rise are:
· The significant decline in palm oil stocks in Indonesia.
· Lower than expected yields in Canadian rapeseed.
· Delays in the sunflower harvest in Ukraine and Russia, as well as uncertainty about yields.
· The recovery in demand, mainly for palm oil.
The table below shows the evolution of some oils and other relevant factors in recent weeks:

And talking about the main oils, world consumption of palm oil is increasing considerably, due to high price discounts compared to soybean oil and other vegetable oils. These large price discounts for palm oil seem unsustainable, as exports are very high and lead to a very substantial depletion of stocks, especially in Indonesia.
In the case of sunflower oil, Ukrainian exports have been very high between July and September, putting downward pressure on prices. However, sunflower oil prices were supported by the increase in the world vegetable oil market price over the last few days. There is currently great concern about the export corridor due to the escalation in the war. Continuation remains in question due to rumours that the Russian side is deliberately slowing down ship inspections. In addition, harvest delays in Ukraine and Russia, and slower sales by farmers have slowed crushing and reduced export supplies of sunflower oil.
In rapeseed oil, total supply in Europe is a record since the 17/18 season. The ban on palm and soybean oil for biodiesel may represent the need for 1.4 MnT of other oils. Part of this will be replaced by rapeseed oil. Currently 6.6 MnT of rapeseed oil is already consumed for use in biodiesel.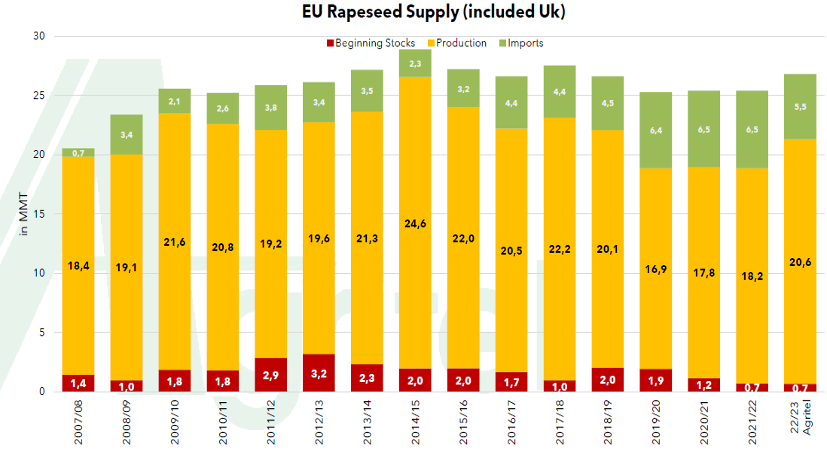 In this changing and uncertain scenario, we invite you to download and continue reading LIPSA's market report below, where you will be able to learn first hand about:
1. Vegetable oil prices rebound in October.
2. External: economic situation
3. Demand and biofuels
4. Palm oil
5. Soybean oil
6. Sunflower oil
7. Rapeseed oil